Here are my notes, quotes, and thoughts from Imagine it Forward: Courage, Creativity, and the Power of Change by Beth Comstock.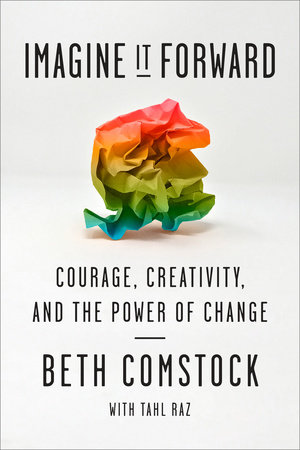 The world will never be slower than it is right now, and leading change and innovation is hard.  Fifty years ago, the life expectancy of a Fortune 500 firm was around seventy-five years; today it is less than 15.
We have to be able to move forward WITHOUT having all the answers.  Charging into the unknown is a skill that needs to be developed and nurtured.  

"We won't experience 100 years of progress in the 21st century – it will be more like 20,000 years of progress." – Ray Kurzweil

"I've realized you can't worry so much about making the right decision. What is more important is to develop a habit of acting decisively." – Beth Comstock

There is always a better way to do things.  Social courage is acting like an extrovert in issuing invitations but being introverted in conversation – listening 70% of the time.  

Ask a question; follow up with a note.

To succeed in creating change, to not be picked off whenever you stick out your neck, you've to to act using the other side's language and values.

You've got to act from the inside, knowing their arguments better than they do.  Before you can challenge assumptions and dislodge the status quo, you need to understand the fundamentals.  

"We always overestimate the change that will occur in the next two years and underestimate the change that will occur in the next ten.  Don't let yourself be lulled into inaction." – Bill Gates

Optimize today and build tomorrow.

Don't be afraid to bring in a spark, a person, usually an outsider, whose unique perspective – the more different, the better – challenges the team to think differently.  Then more vital and weird the environment is, the more likely you are to grow.  Because they don't work in the company, sparks aren't afraid of challenging the boss or office politics.  

Every company, organization, person has a story that conveys their purpose in the world.  If you can't tell it, you can't sell it.  Whether it's an idea, a product, or a project, you must be clear on why it is important, what the anticipated outcome is, and why it is relevant.  It's not what we sell, it's why we sell.  

GE Growth Values
having an external market driven focus, measuring performance through customer eyes
being a clear thinker, able to sift through complex information and focus on the critical priorities and strategic action steps
having imagination and courage, creating environments in which others can take risks and experiment
acting through inclusiveness, building diverse teams and partnerships, as well as collaborating across and outside the company
deep expertise as a resource to drive change
Everyone should have one value rated red (stop….this needs work) and one that was rated green (keep going…this is good).  Leadership is a work in progress and EVERYONE needs to evolve.  

Two Failures

1. GE failed to accept market insights and focused on perfecting a scanning machine perfect for engineers and a few academic radiologists.  They lost market share to competitors who solved a big need for radiologists and patients.  

2. GE invested $170 million into building a Durathon factory, thinking the product would solve the problem.  "Wishful thinking is then enemy." – Elon Musk

Taking something to a client that is less than perfect is actually a much more effective way to work.

Field Trip Fridays – taking marketing team to visit an emerging company or an exhibit of some sort

Learn to accept that conflict can make your idea or product better.  Perhaps your problem is that there isn't enough conflict in your process.

Building an innovative team is about creating trust, not just hiring stars.  If you're going to innovate to greatness, you have to be able to give your colleagues candid feedback on their ideas – and be prepared to face the same firing squad yourself. Striving to maintain harmony is dangerous; it silences honest criticism and allows people to serve up polite praise for bad ideas. 

Change is not a single act or initiative.  It is an ever-evolving dynamic in which you prod and see the environment with a range of friction-causing catalysts.  This is why you need sparks, be they people, projects, or perspectives.

Let people dance on the edge of authority.  Outsiders and rule-breakers possess disruptive intelligence required to catalyze reinvention and renewal.  

Conditions that foster innovation: Small teams, autonomy and freedom, insulation from the practices of the parent company, relentless focus on solving insular problems, an approach that encourages experimentation (with no stigma attached to failure), and a reverence for creative disobedience.

Hulu thrived in the beginning because it was insulated from the parent culture while at the same time enjoying its plentiful resources.  

Put the user and their unmet needs at the center of everything you do.  

Change happens gradually, then suddenly.

You are fighting for a share of your customers minds in order to win a share of their wallets.  Mindshare before marketshare.  Revolutionary innovations need to be explained before they can be accepted.  They need to be experienced before they can be believed.  They need to be communicated repeatedly.  

Business model innovation is just as important as technological innovation.  
Stress future utility:  People have to buy into an idea before they buy into a product.  An example would be Salesforce convincing people to accept the idea of software as a subscription.

The average train goes 21mph, even though it is designed and built to go much faster.  The reason it goes slower is the system (conjestion on the tracks, for example.)

"Tell me why this isn't a waste of time."

FastWorks Questions to Uncover the Truth
Who is the customer and what is the need you are trying to solve for them?
What is our strength or unfair advantage there?
What did we learn from then experiments we ran?
What is the business model – i.e., How will we get paid?
Would you bet your career on this idea/solution/business?
Why now?
Where have you failed? What will you do differently because of it?
What can I do to help?
Emergent leaders must be rewarded for the productivity of their failures – their idea generation, their pivots, their learnings, their clear-sighted zombie kills – as well as for their major successes.